Knights of the Rosary & the Scapular
The Rosarian Knights 
These souls are called to follow Our Lady into battle by taking up the weapon of the Holy Rosary and the armor of the Brown Scapular of Our Lady of Mount Carmel. Learn more about these two devotions below.
We have seen amazing signs of the fulfillment of our Blessed Mother's promises about the power of prayer – especially the Rosary.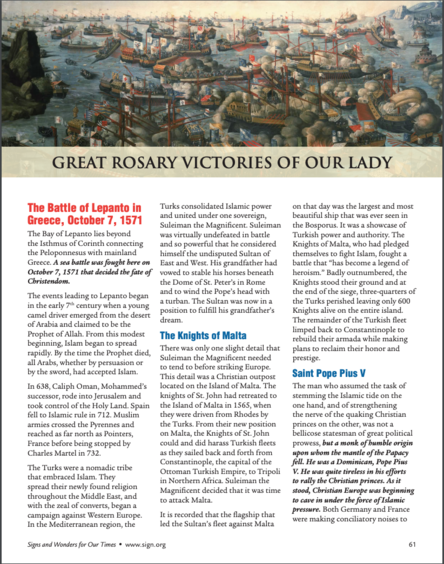 There have been many battles won in history through the Power of The Rosary...
May 13, 1955 — After 700,000 people agreed to pray the Rosary in Austria, the Soviets mysteriously departed the country on the anniversary date of Fatima-May 13th, 1955.
October 13, 1960 — After Pope John XXIII called for prayer, a million pilgrims in Fatima held an all night prayer vigil before the Blessed Sacrament. The next day, October 13, 1960, an accident destroyed a new Soviet missile, killing many top scientists and setting back the Soviet nuclear arms program by at least 20 years.
May 13, 1984 — After another major Rosary Crusade, a massive explosion on May 13, 1984, eliminated two-thirds of the missiles of the Soviet Union's powerful Northern Fleet.
Click on the image to read more of these amazing stories from Catholic History!
Other videos on the Rosary and The Brown Scapular